Posted by UPW on 6th May 2016
Choosing traditional bedroom furniture that you'll love for years to come is a matter of discovering your personal style. Many people consider the age of their home, the era during which it was built, and their other furniture items when choosing bedroom furniture.
There aren't any hard and fast rules for furnishing a home, however. If you love the plush detail of Victorian Era furnishings or the clean and bold look of Mid century Modern décor, incorporating that style into the furnishings and décor of your home will help to create an environment that you truly love, and that reflects your personality.
When selecting your traditional bedroom set, finding your favorite bed style is key and this can be a fun process. Check out these popular traditional beds to see which varieties hold the most appeal.
1- Upholstered and Tufted Bed
An upholstered and tufted bed offers a warm and inviting ambiance to a bedroom. The place where you relax should offer nothing but softness and comfort. Style options include plush tufting, nail head trim, leatherette upholstery, and even hand woven banana leaf upholstering. For bedrooms with limited space, you can choose an upholstered headboard as the focal point to the room, and add optional rails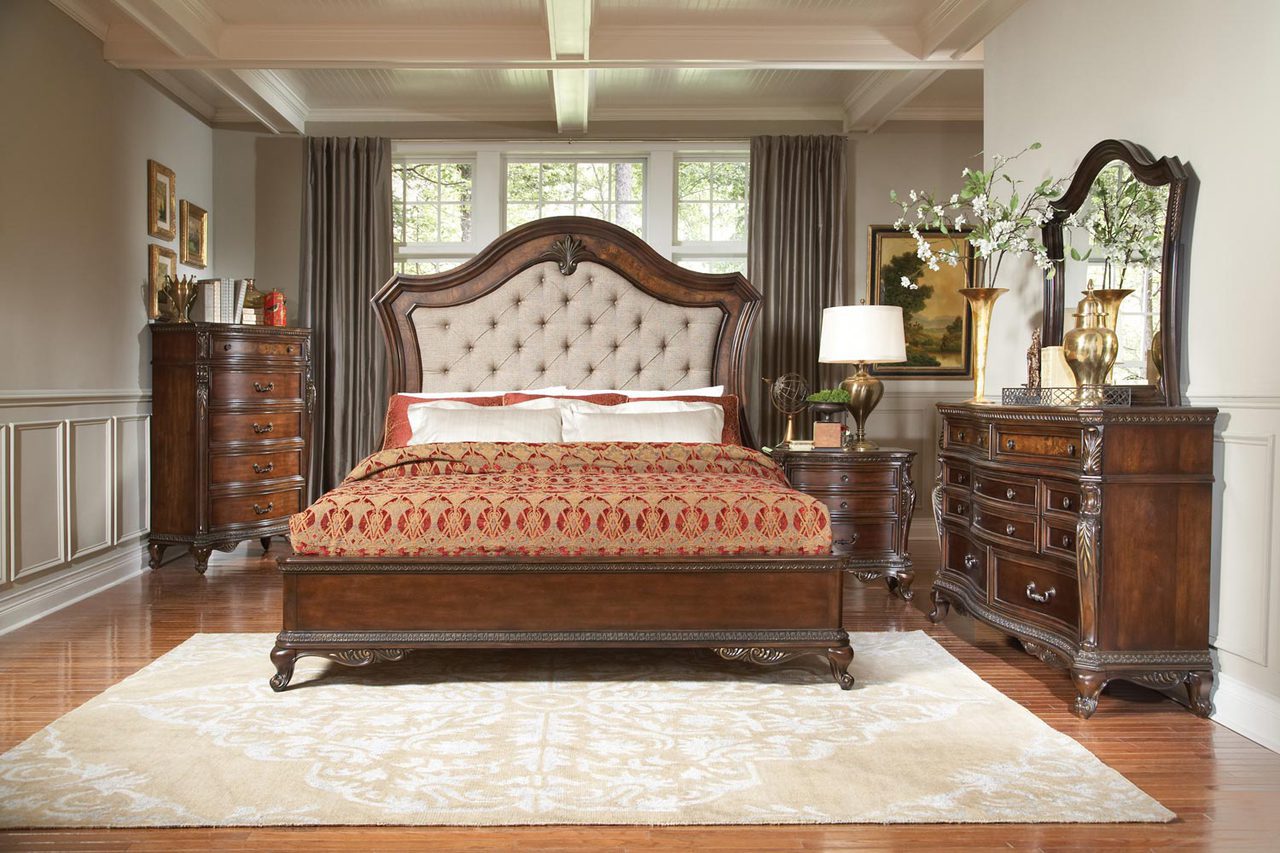 2- Sleigh Bed
A sleigh bed offers a traditional feel, and is easy to add to nearly any style of décor. Perfect for a spacious master suite, this type of bedroom furniture is luxurious and beautiful. Choose from a variety of finishes to create the perfect private getaway. This type of bed typically includes matching side rails for a finished look. Headboards may be upholstered or even carved wood.
3- Poster Bed
To make a grand impression, choose a traditional poster bed to complete the most restful area of your home. This type of traditional bedroom furniture is best suited to larger rooms with high ceilings. The shape of this bed draws the eye upward, so it complements architectural features like tray ceilings and detailed crown molding. A traditional poster bed is a solid piece of furniture that really grounds a room and creates an undeniable focal point.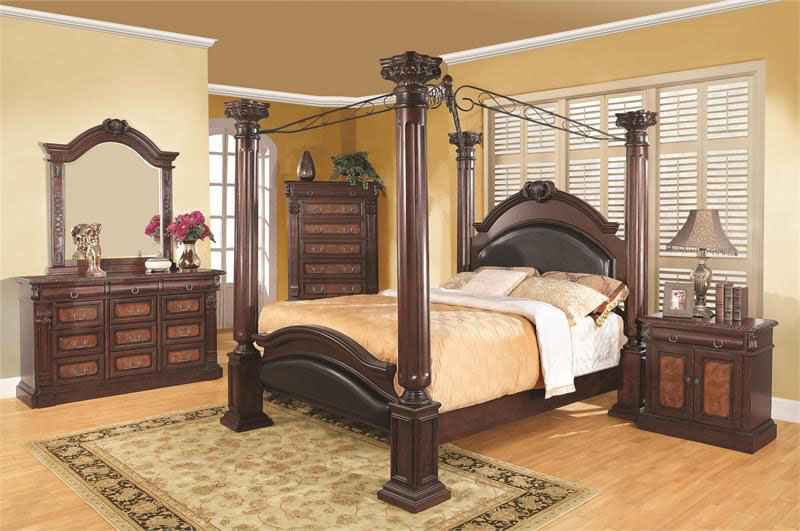 4- Platform Bed
For a bed that combines the qualities of classic design with a modern update, a traditional platform bed is the perfect choice. Available in natural wood, Oak, cherry, dark walnut, or even luxurious upholstered headboard, the platform bed offers wide varieties of options to match any style.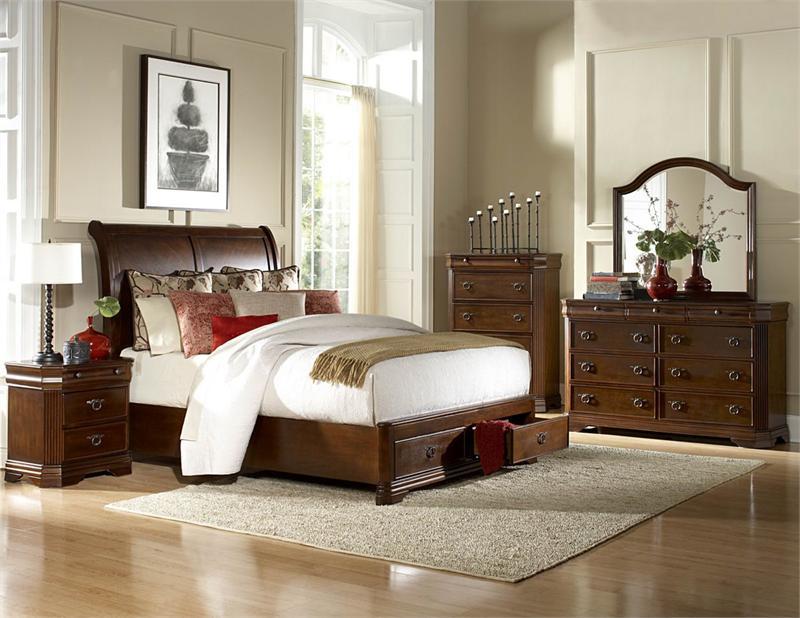 5- Panel Bed
If you love clean finishes and straight lines, a panel bed may be the perfect option. With a framed headboard and foot-board, this type of bed is suitable for nearly any sized room. Available in nearly any finish, the panel bed retains a traditional feel and can offer the perfect final touch to your private oasis.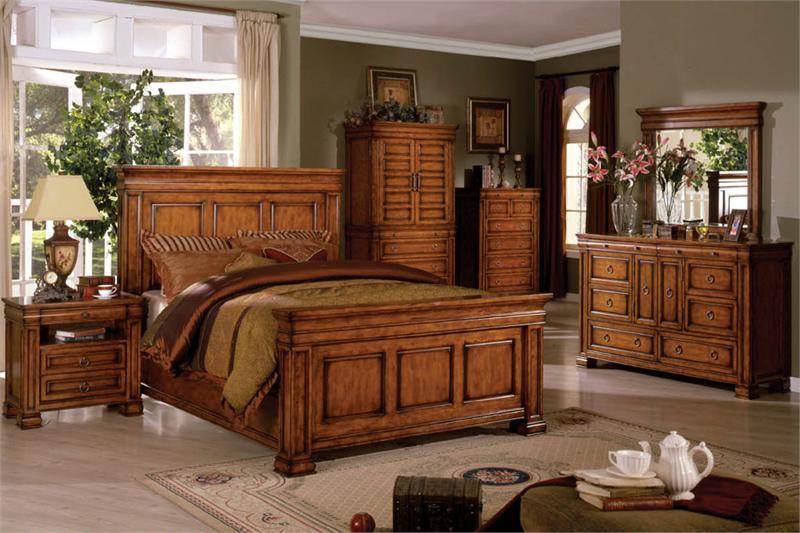 6- Canopy Bed
For a truly indulgent style of bedroom furniture , consider choosing a canopy bed. Some versions of this popular style have curtains that open and shut for varying amounts of light and privacy. This type of bed is also available in many sizes, making it the perfect addition to a child or young adult's room. Like other styles of larger beds, this particular option is a wonderful addition to a larger bedroom with high ceilings.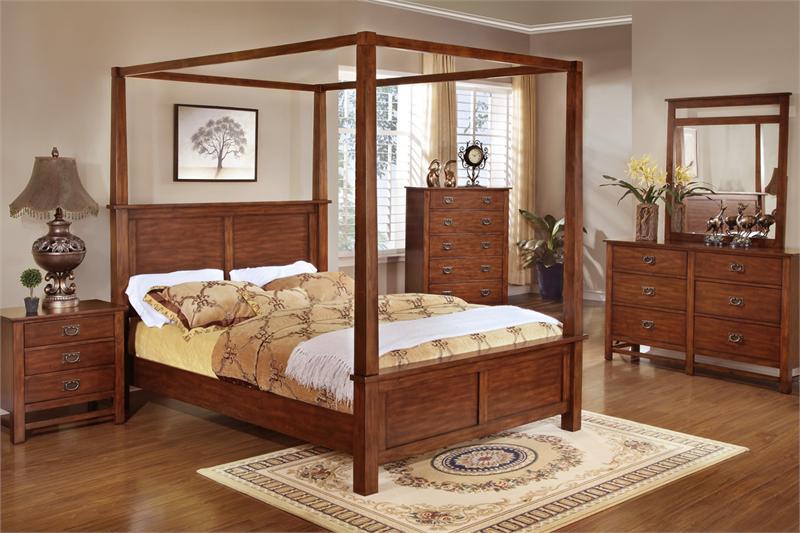 7- Storage Bed
The storage bed offers extra space to stash off-season clothing, personal items, or your large collection of shoes without crowding the closet. Many styles of beds make good use of the otherwise wasted space between the floor and the bottom of the bed by including deep and wide drawers in the overall design of the bed. A storage bed is especially welcome in smaller homes with limited storage, or older homes that may not have large enough closets.