Posted by BM on 14th Apr 2015
Choosing the perfect metal bed frame for your bedroom is easy if you know what your tastes and preferences are. A metal bed frame has the unique ability to match with any type of bedroom décor that ranges from traditional to modern and elevated designs such as art deco and Victorian. Easily boost the grandeur of your room by sprucing up that plain mattress and box spring with one of our many elaborate bed frames offered at efurniturehouse.com. Choose between a variety of bed frames crafted from aluminum, brass, bronze and iron.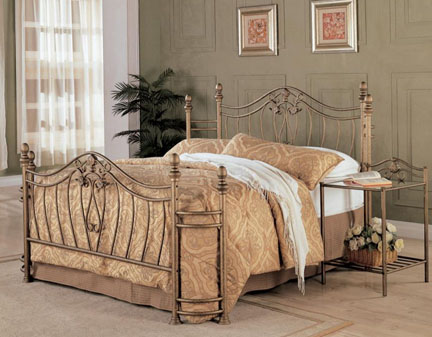 Size of the Metal Bed Frame

Before you start spending your valuable time looking for bed frames, think about the size of metal bed frame that will satisfy your needs. Make sure to measure the length and width of the room that the bed will go in. Once you have these measurements, decide which size bed frame will suit the room best. If the room is limited in size, twin and full sized metal bed are your best option. If you want a comfortable bed without the bulk, a queen size metal bed frame is the way to go. When size is not an issue, go nuts with a grand sized king metal bed frame.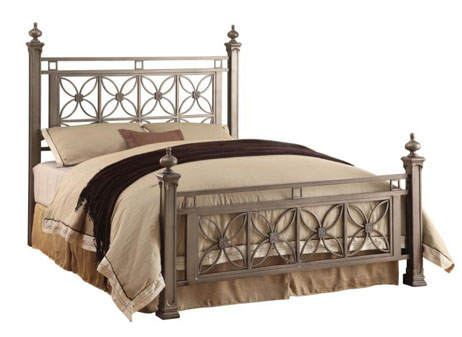 Style of the Metal Bed Frame

What type of style do you want to be displayed in your bedroom? Do you have a mix of contemporary and traditional décor elements in the room? A transitional style metal bed is the perfect choice. Are you into simple yet classic designs? You can never go wrong with a traditional four-post bed. Matching the theme of your bedroom goes a long way stylistically and creates a serene, natural flow in the bedroom.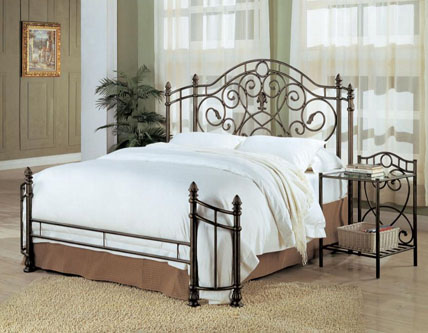 Types of Metal Bed Frames

Metal bed frames are crafted from a range of metals and materials that offer their own unique appeal. Lightweight metal bed frames are ideal for children's bedrooms, college youth and promote convenience through their easy mobility. Other denser metal beds offer long-lasting quality, are rust-resistant and typically highly stylized.

Aluminum metal bed frames offer high mobility. They are durable, lightweight, and affordable. Some of the most sought-after aluminum metal bed frames are popular among kids, teens and college-aged young adults. Not limited to just standard beds, other configurations offered come as bunk beds, futons and loft beds.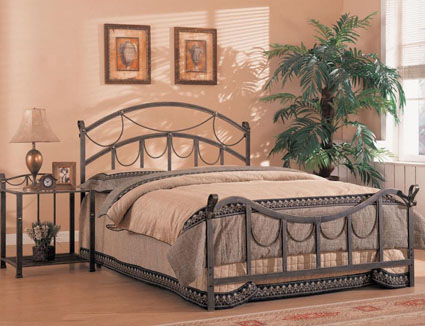 Brass metal beds are perfect for those that do not want a metal bed that is too light or too heavy. It's the perfect combination that gives you a bed that is "just right." The brass metal bed made its mark in the home décor world with its trademark traditional four-post bed design. This design has been around since the Victorian era and is not going anywhere. Due to growing demand, brass metal beds now come in every size and style that you could hope for.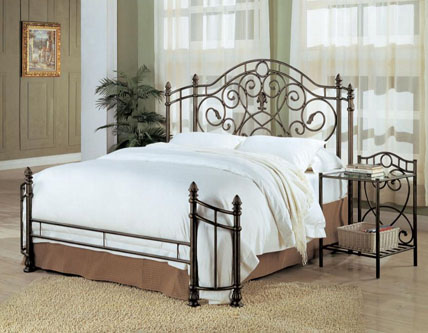 Bronze metal beds are considered to be just as good as brass beds if not better. Known to be resilient against humidity shifts, allowing it to be rust-resistant. Bronze beds are easily identified because of its distinctive reddish brown color and make an excellent addition to any traditionally styled bedroom.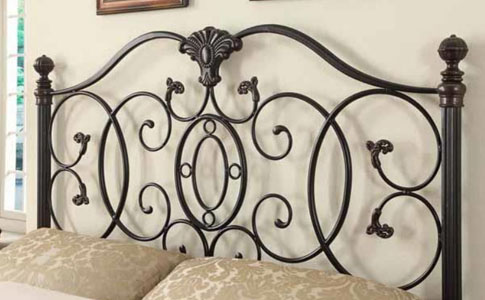 Iron crafted metal beds are the heavyweight giants of the metal bed frame world. These iron beds are meticulously crafted to be elaborate, eye-catching pieces that command attention. Considered the most ornate, iron beds are highly regarded for their beauty and refined elegance. Common characteristics include scroll details, rope twist designs, flowing lines, and decorative finials. Lastly, iron beds offer unmatched durability and a timeless design that will never go out of style.
Which Metal Bed is Right for You?
Before considering a metal bed, think about the size of the bed, the style of bed you want for your room, and the type of metal you want. Once you do that, any metal bed you choose will be the perfect choice for you. At efurniturhouse.com we believe in helping our customer make the right choice. Take your time as you browse through our selection of metal beds and should you have a question, our knowledgeable staff will be more than happy to assist you.