Posted by UPW on 7th Oct 2016
Adding the popular slightly un-done yet completely pulled together feel of a rustic dining table and chair set to your home is a great idea, right now. Not only is this style on-trend, it fits well with this time of year when things have an imperfect and transitional feel to them.
Whether you want to check out the options for distressed dining room tables or just learn more about transitional dining room furniture, you've come to the right place.

Rustic Transitional Style Round Dining Sets

Rustic transitional round dining table sets are perfect for a square room or smaller spaces in general. Their shape gives them the right amount of versatility and comfortable seating without taking up more space than necessary.
Single pedestal round tables accommodate 2-4 people with ease and there's no need to worry about bruised knees or banging up chair legs accidentally. The Alpine Newberry 54" round dining set is a neutral, high quality, and beautiful option. Generously padded chairs invite luxurious dinners that last well into the night.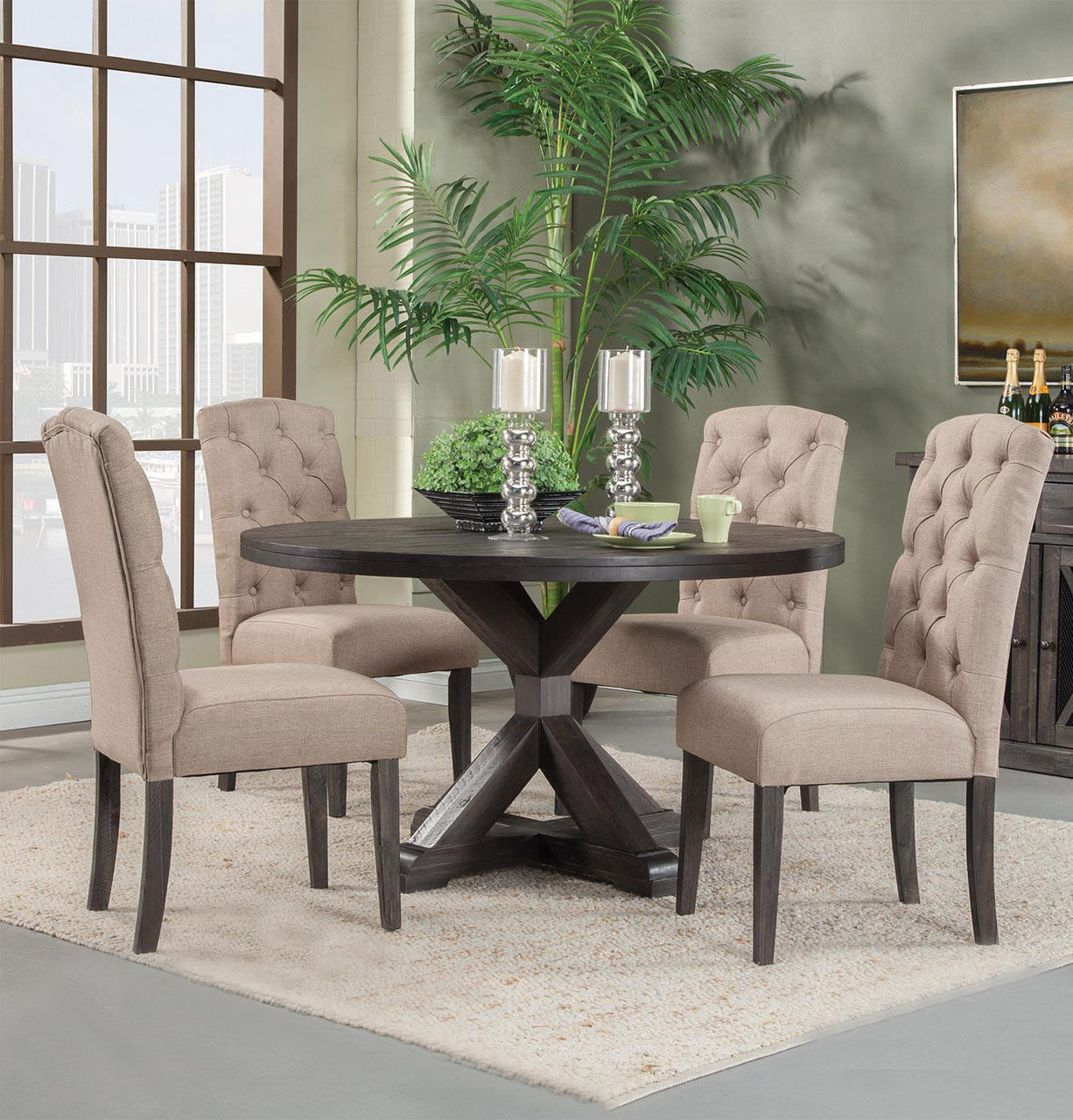 Distressed Transitional Style Tables with Leaves

Many transitional style dining room sets embrace the distressed or rustic look. Take a look at the Carlsbad Vintage Dining set. The style is 17 th Century Spanish inspired in a vintage espresso finish. The wood surfaces are wire brushed to create a natural distressed look. The Carlsbad vintage dining table comes with 20" leaf that extends the table to 98" long, making entertaining a small group or your entire extended family a breeze.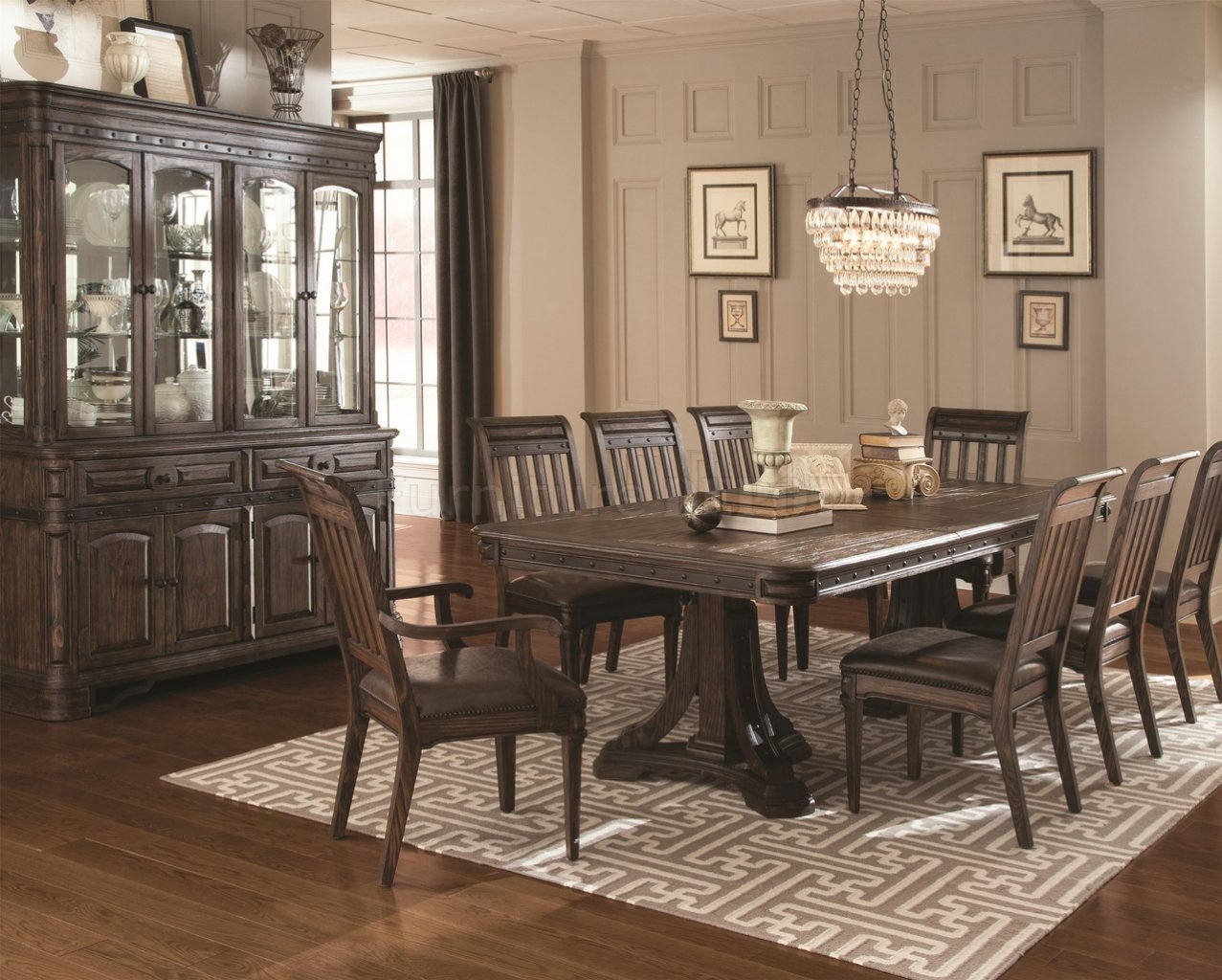 Distressed dining table sets are all the rage right now, and The Sienna dining table set is no exception. This dining set features a farmhouse style table with a groove pattered top that add more of a that rustic feel. Two 13" leaves are stored separately; the table including the extension is 95". When versatility is a must this set is the perfect choice.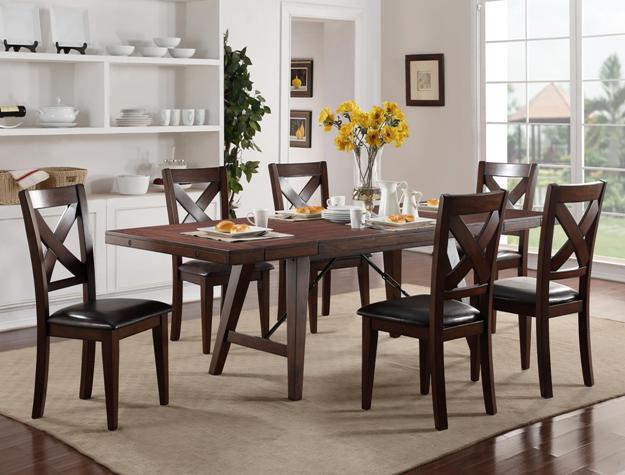 Rustic Transitional Style Dining Tables with Bench

Bench seating offers a nice way to accommodate children or people who aren't comfortable in a traditionally shaped chair. The Pierre Antique Cappuccino table with four chairs and a bench offers a warmed tone finish. The farmhouse style table features a double pedestal base and the metal cross accents offer an industrial look. Enjoy two matching removable 15" extension leaves to accommodate a large group.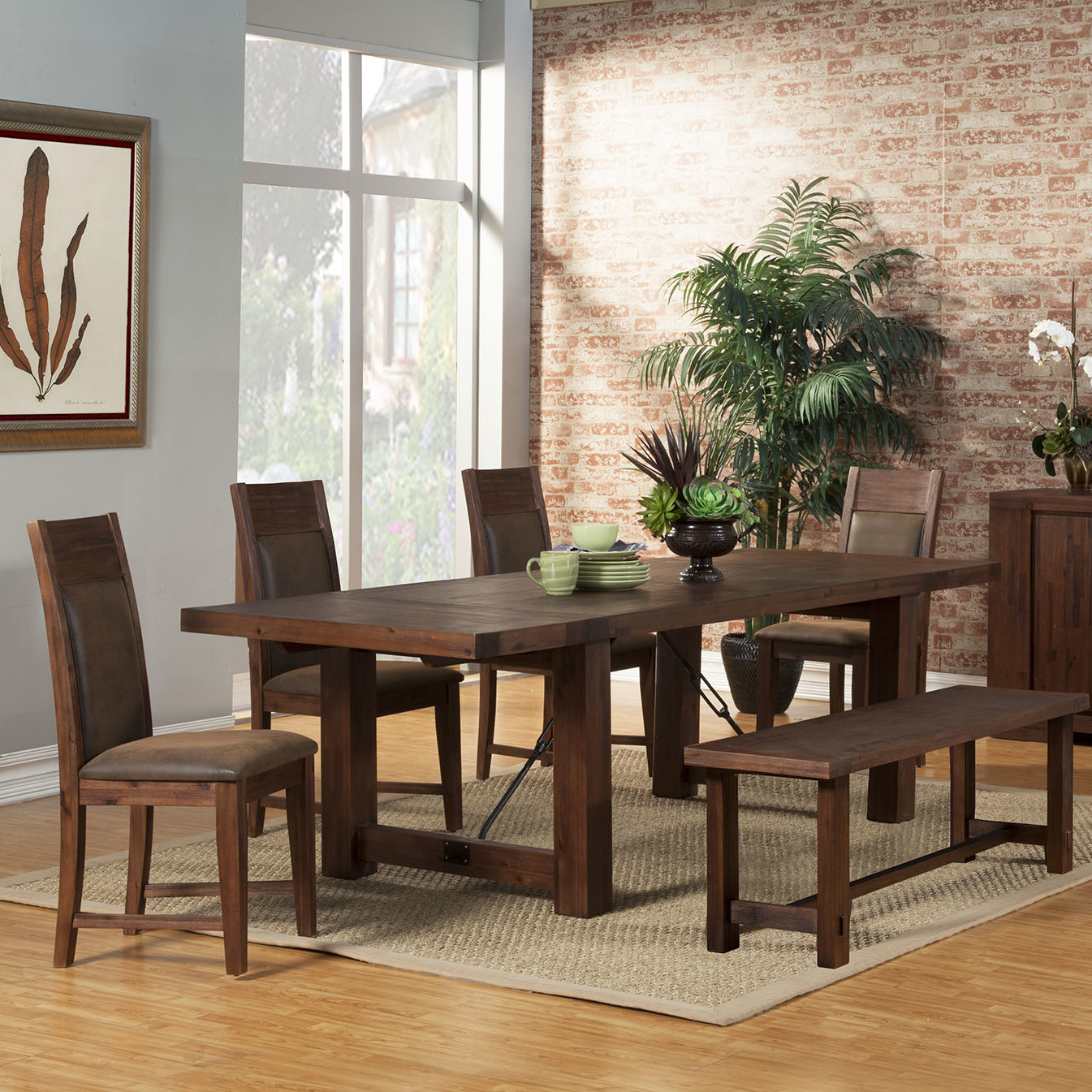 The Arcadia Weathered Acacia dining table set also has bench that measures 58.5" long. This transitional dining room furniture is poplar wood and cherry veneer with a wire brushed finish that mimics the look and feel of reclaimed wood.
The fixed table top is 84" and has exposed metal details that give it a rustic yet polished look. The table is sturdy and supported by inclined pedestals.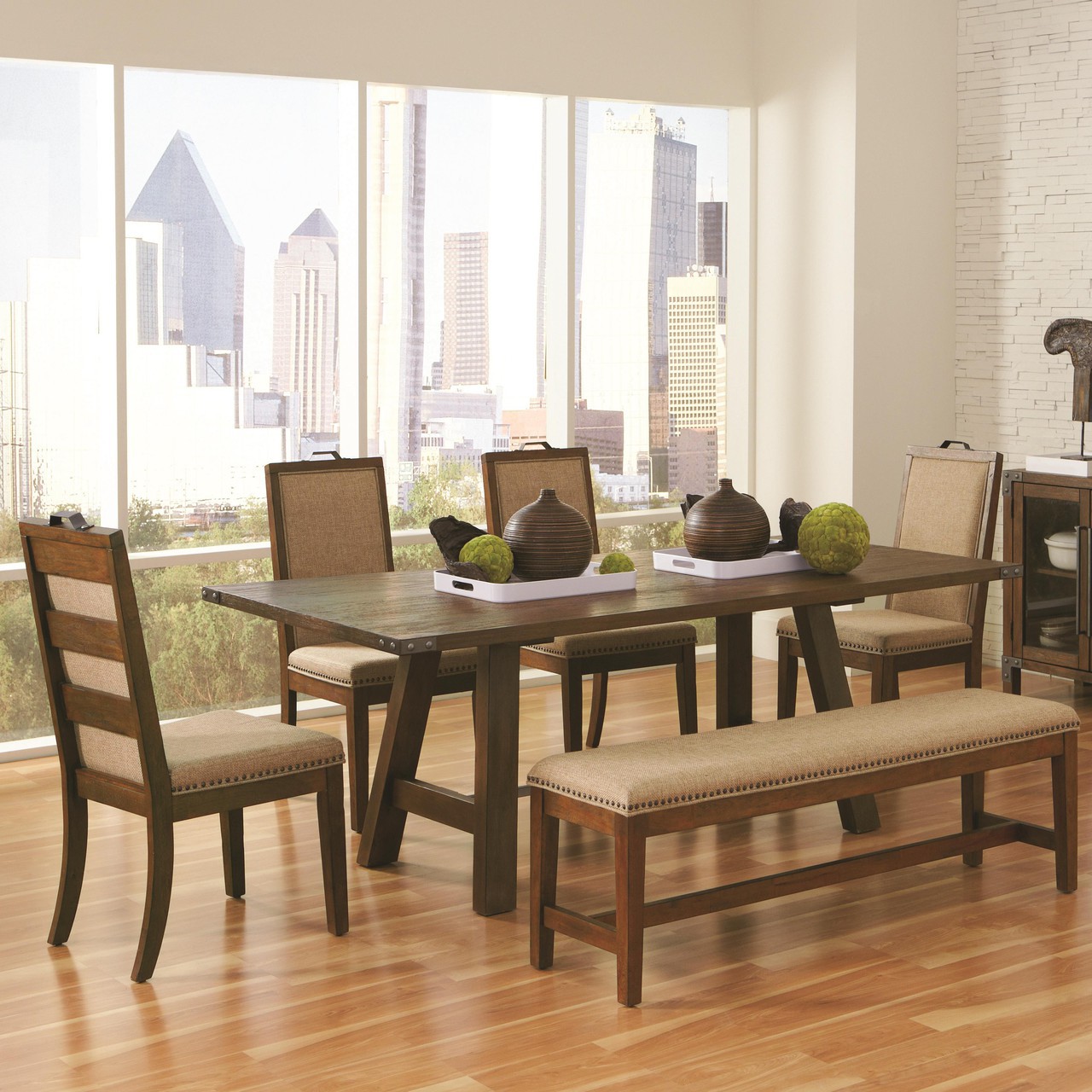 Industrial Style Transitional Dining Sets

For a lighter look, try the industrial styled 84" Mason Burnished Rustic dining table set . This modern table has an oak finish. The six matching chairs are perfectly accented by nail head trim and sleek black legs. Neutral fabric makes this a great set in any style of home. The X-framing under that table provides plenty of support without adding bulk.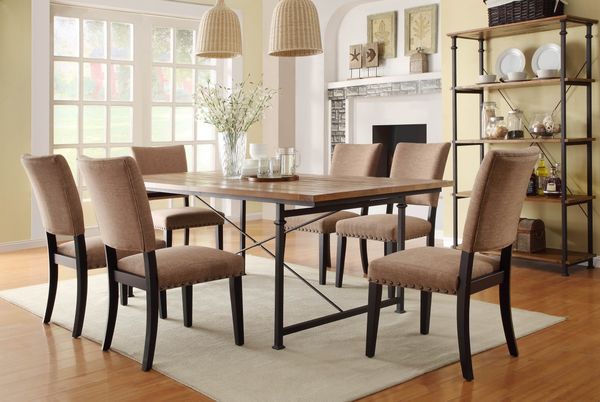 The Armous 7-piece Natural Galvanized dining table set offers a heavier profile offset by lightly colored matching chairs with nail-head trim all-around. The natural finish extends to the table top, which is covered in unique galvanized iron and also has coordinating nail-head trim.
This memorable set has a wood cross-leg base and a 78" fixed table top. The industrial look of welding marks provides the perfect finishing touch to this distressed dining room table.
Industrial style furniture gives an older home a modern edge. They also can make a small space feel larger with their interesting details.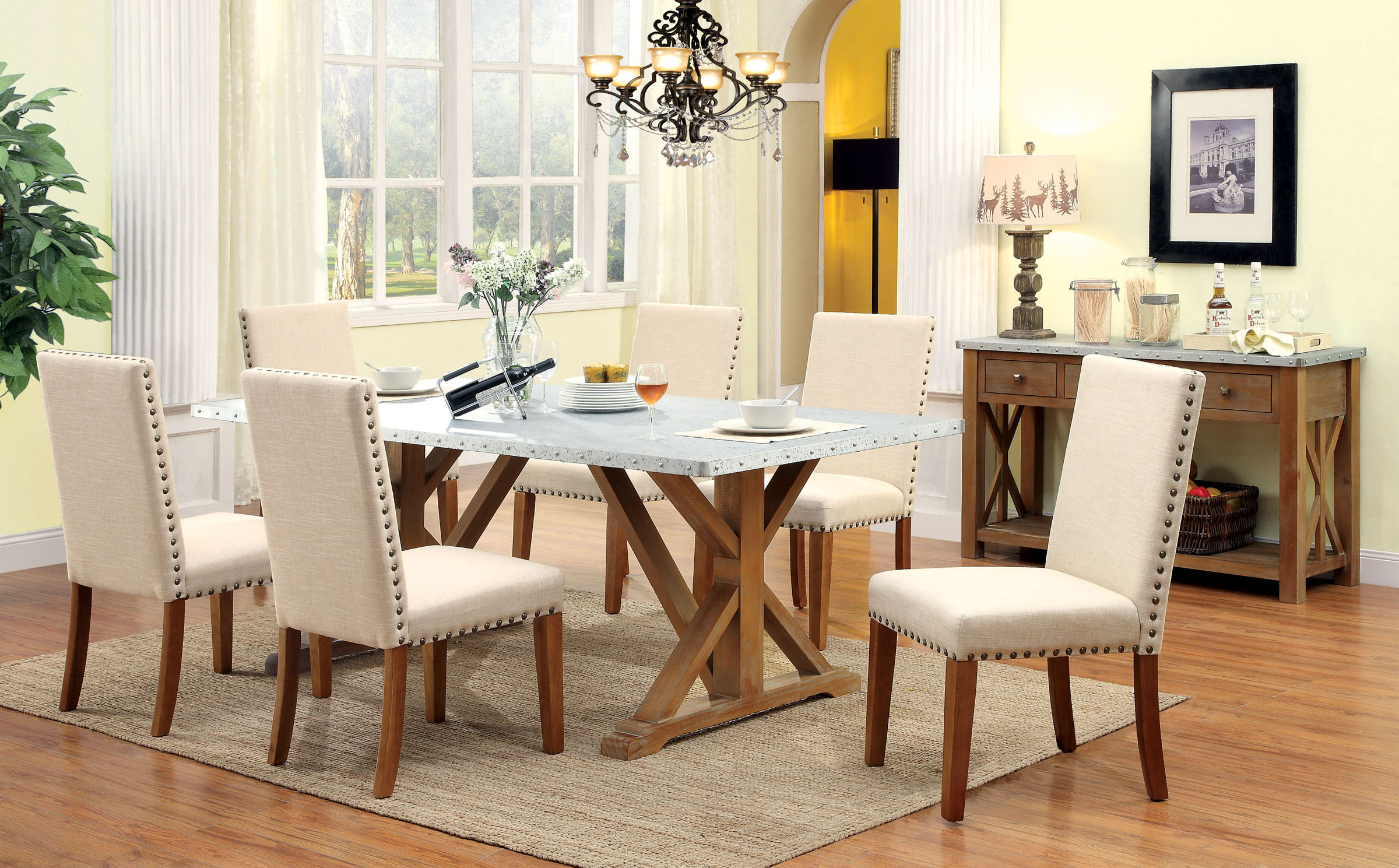 Adding a rustic dining table and chair set to your home this fall will add a fun and lighthearted feel to the changing seasons and offer endless inspiration as we head into the winter holidays.