The humble bunk bed – loved by parents the world over, this once simple piece of furniture has moved on. No longer the straightforward sleeping solution, this space-saving nighttime wonder provides for a head spinning array of options. Corner construction or over queen decker? Curved ladder, slanted or straight? Twin or triple? Featuring a futon or teamed with a trundle?
Phew! Who knew that planning for a restful night's slumber could be so exhausting?
Here we save you the trouble of a sleep-inducing learning curve, with our editor's choice of metal bunk beds – with choices perfect for every home.
1 - Camp Style
Durable, functional and perhaps the most traditional of the bunk beds to feature in this editor's countdown, the camp style bunk bed has proven the staple of the shared kid's room. Featuring a slightly slanted ladder for a safe clamber up and into bed, this model offers the option to add under-bed drawers (for much needed extra storage), or an under-bed trundle (making this double decker a sleeping space for three).
Perfect for the home that is… Modern and style-conscious – a student room or the family home that serves as an occasional stopover for an additional little one.
Shop this style...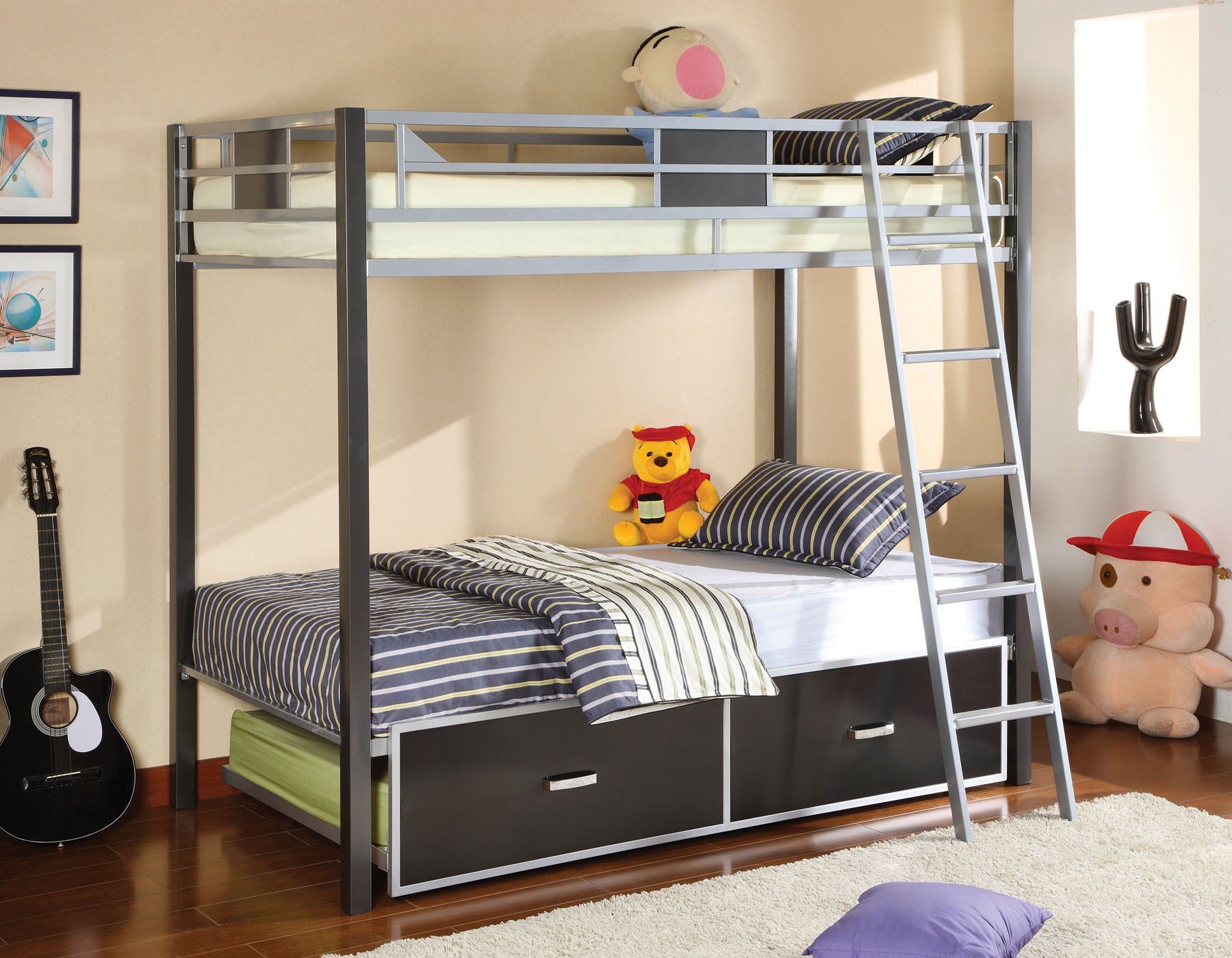 2 - Industrial Inspired
Don't compromise design for the function a bunk bed can provide. The Industrial style Bunk Beds proved that beautiful form can meet practical function. Combining matte black metal with wood panel inserts, this piece of furniture is right on the money when it comes to the enduring industrial trend.
Perfect for the home that is… Always up-to-date and on-trend, yet timelessly understated – this metal bunk bed will stay relevant even as interior design trends change.
Shop this style...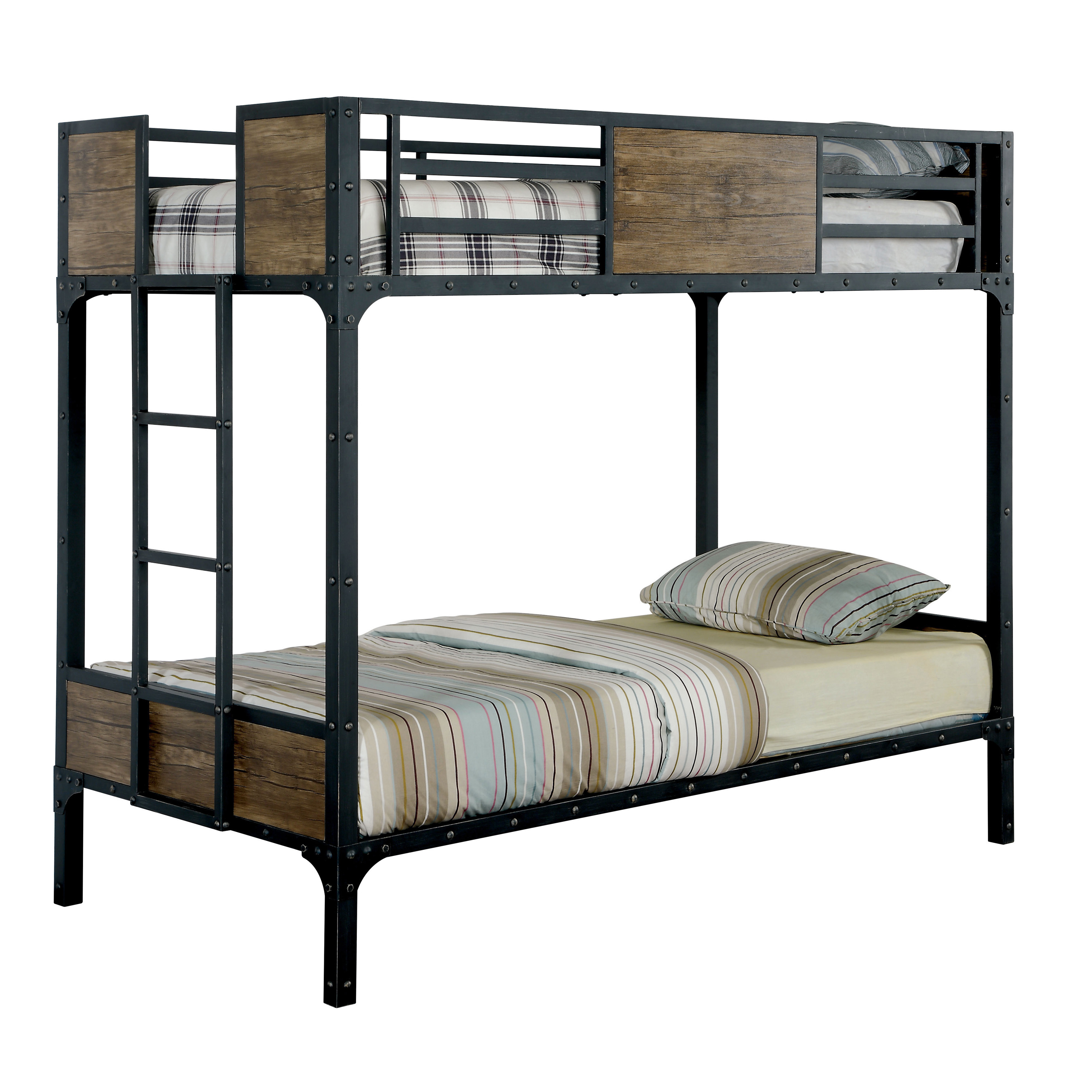 3 - Pipe Style
No longer made for just tiny people, metal bunk beds have seriously grown up. The Xavier features not one but two double queen size beds, set within antiqued black industrial piping – for a style nod to days gone by.
Better still, is the fact that these beds can convert back and forth - between stacked or separate queen doubles – now that's innovation.
Perfect for the home that is… Forever welcoming guests over the threshold who are full grown, or the home that is soon to be upgraded to one with more space (and more bedrooms).
Shop this style...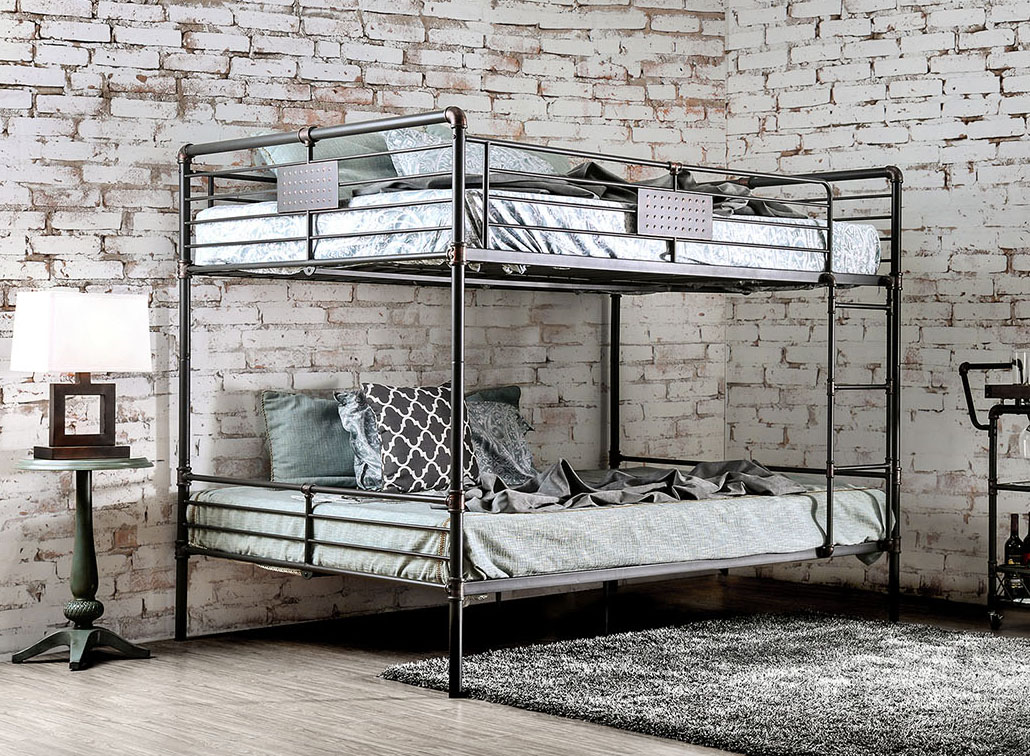 4 - Futon Bunk
Showcasing the same brushed black metal/wood combo as the Austin Industrial Inspired Metal Twin Bunk Bed, this futon bunk will allow you to sleep soundly and in style at night, while sitting back and relaxing by day. This bunk provides the best of both worlds, with a futon that flips back and forth from bed to sofa.
Perfect for the home that is… Stylish student digs, or a home with a tween or teen that needs a mate-friendly sitting space.
Shop this style...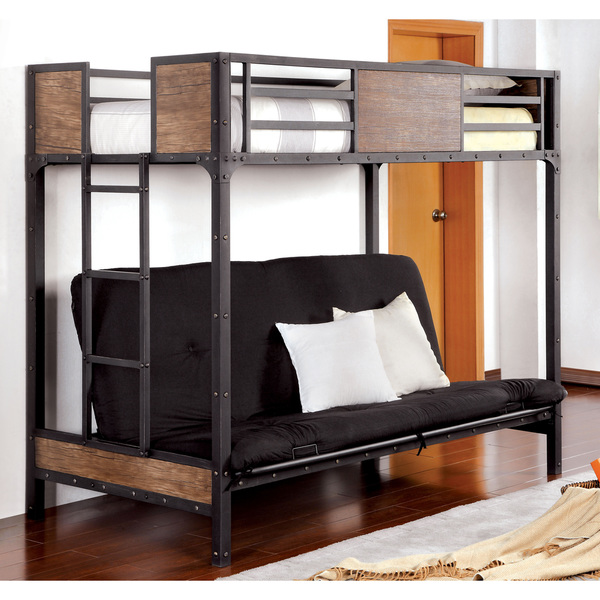 5 - Extra Long
With angular, clean lines, this addition to the editor's choice is the ultimate example of a minimalistic style overhaul on the old-school bunk bed. The Nottingham Black Extra Long Twin Queen Metal Bunk Bed makes for a unique configuration from the inventive "Nottingham" collection.
Perfect for the home that is… Home to kiddies of different ages, or where the bottom sleeper needs a little extra room come nighttime.
Shop this style...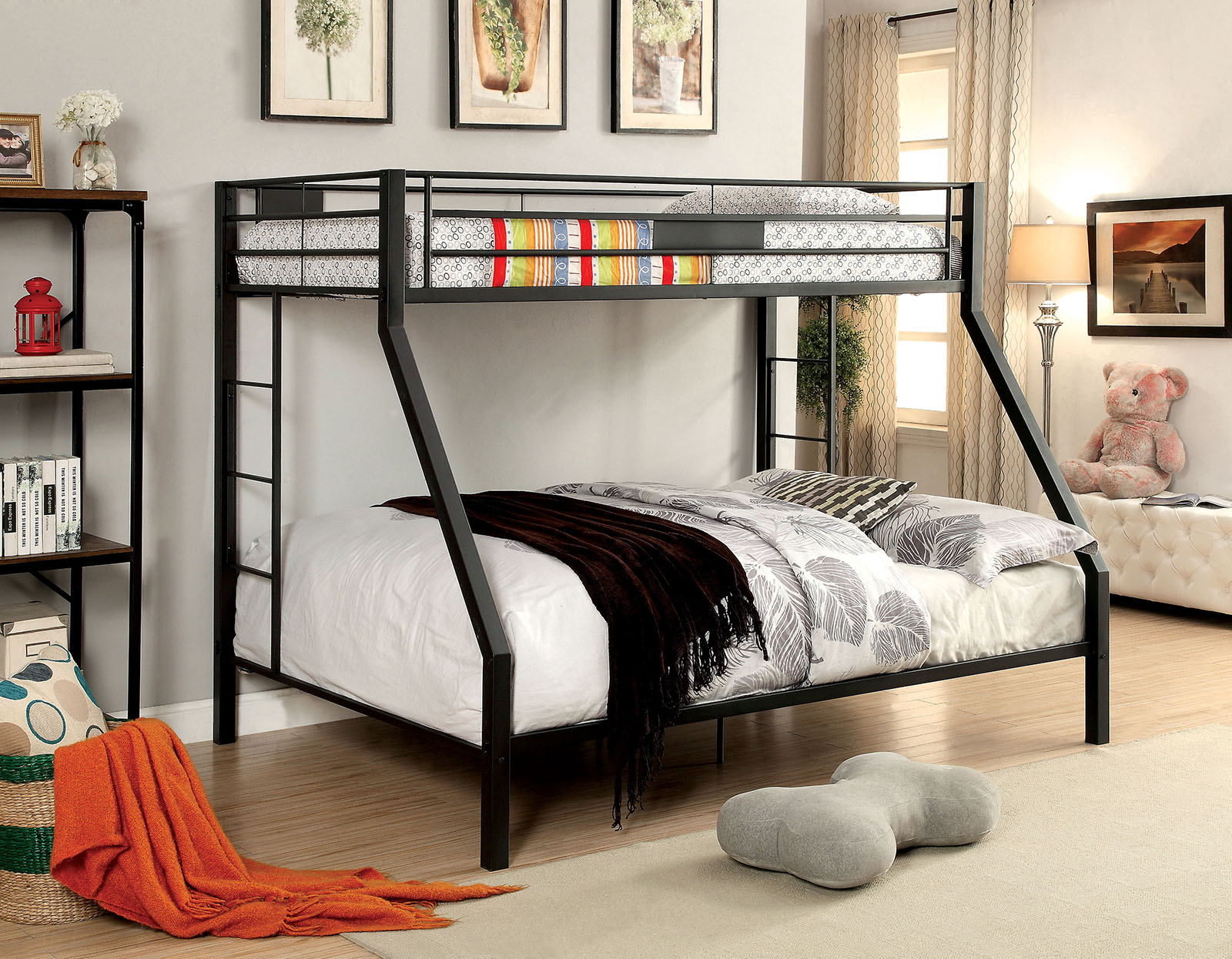 6 - Corner Triple
You're working with limited space – 1 room, three kids. For this tough task, there is the Madison Corner Triple Decker Twin Size Bed – a sturdy, modular bed from the Madison Collection.
Perfect for the home that is… Short on space, short on room height, but home to three little ones that need a safe, seriously stylish space in which to sleep.
Shop this style...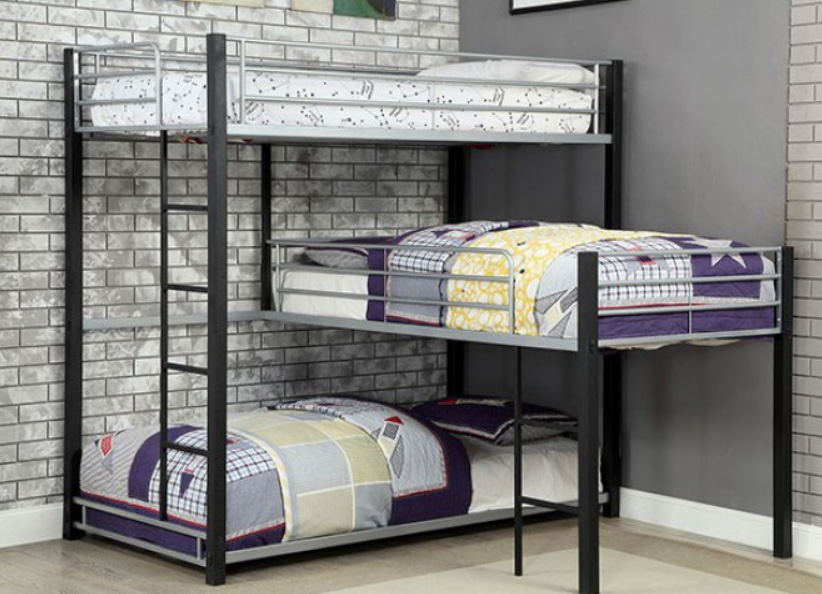 7 - Triple Decker
Three levels, three beds, three different sizes – if Goldilocks were real, we're certain she'd find no problem laying her head down on one of these three beds. With more graceful, curved piping, this bed balances contemporary design, with throwback inspiration from industrial America.
Perfect for the home that is… A place where three different age and/or size children reside.
Shop this style...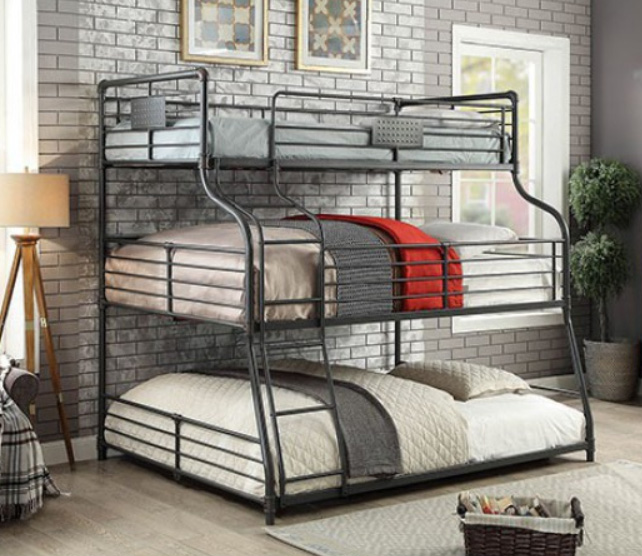 Three kids with a few years between them? Check. Impromptu sleepovers? Double check. A stylish answer to being space-short but guest-welcoming? Check, check, check. Our editor picks have provided many choices of metal bunk beds and Industrial style bunk beds for every type of home and sleep set-up. So, you can forget about baffling bunk bed options, and sleep tight with the right solution for your slumber.