Posted by UPW on 15th Jul 2019
It's time to start preparing your home for the cozy fall days ahead. Cooler weather means adding autumnal touches, rich colors, and deep hues to warm up your environment. With the holidays right around the corner, you'll want to pay special attention to your dining room. Hosting family and friends is a joy; it also may mean that you'll need to shop for new formal dining room furniture.
Furnishing Ideas for Your Formal Dining Room
The space where you'll invite your loved ones to enjoy a home-cooked meal and relax in each other's company should be welcoming, comfortable, and beautiful. You want them to feel like an invitation to dinner in your home is the purest expression of how you feel about them.
Elegant formal dining room sets provide the ideal arrangement to entertain friends and family for special occasions. Formal dining room sets for 8 or 10 offer plenty of space for everyone.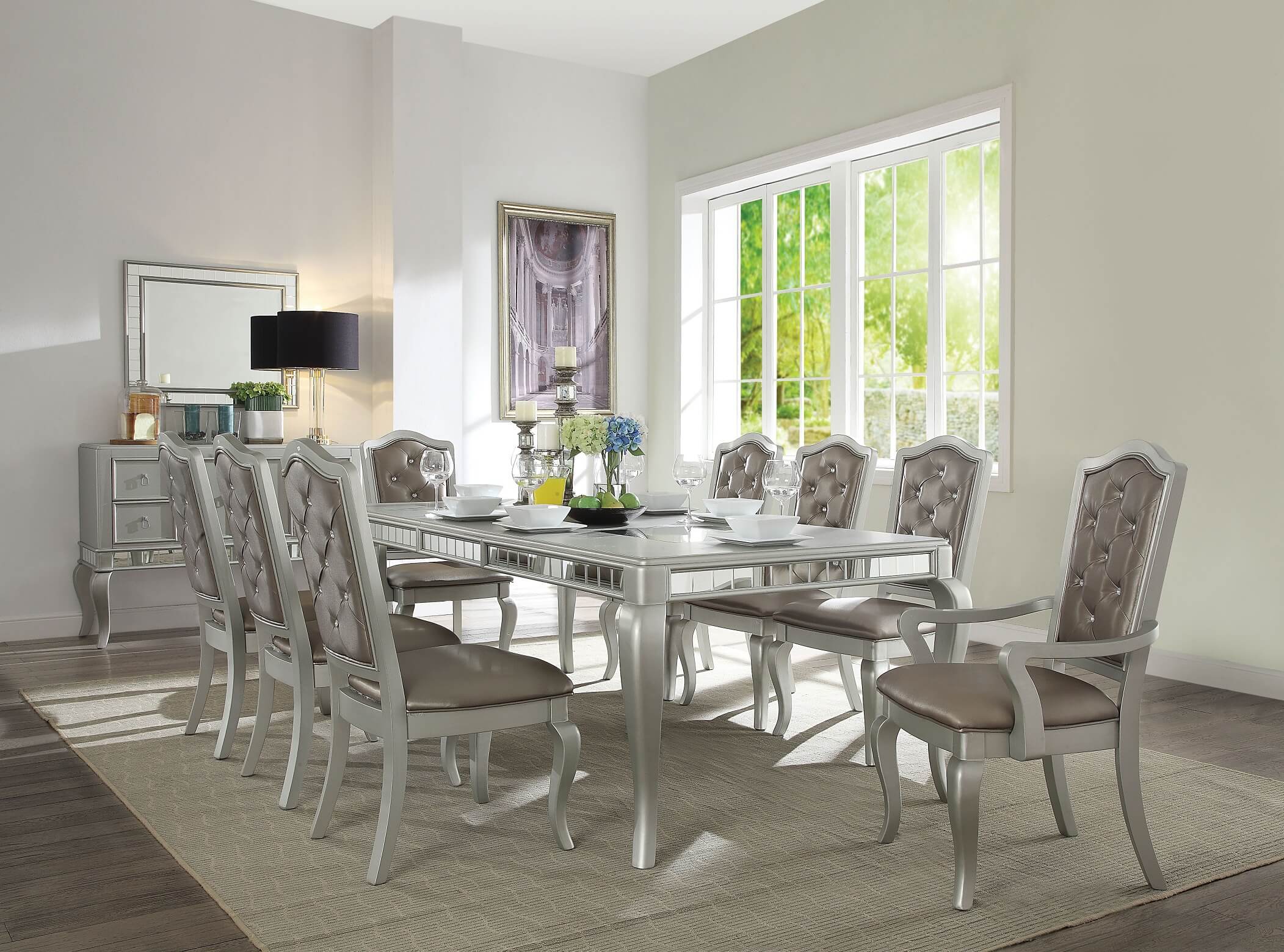 The Francesca Champagne Finish 7-piece Dining Set offers glamour, warmth, and a bit of sparkle. In a formal dining room with dark walls or low ceilings, this set makes the most of the light in the room. Mirror trim around the table top and crystal-like button seat backs are the ultimate expression of your outgoing personality.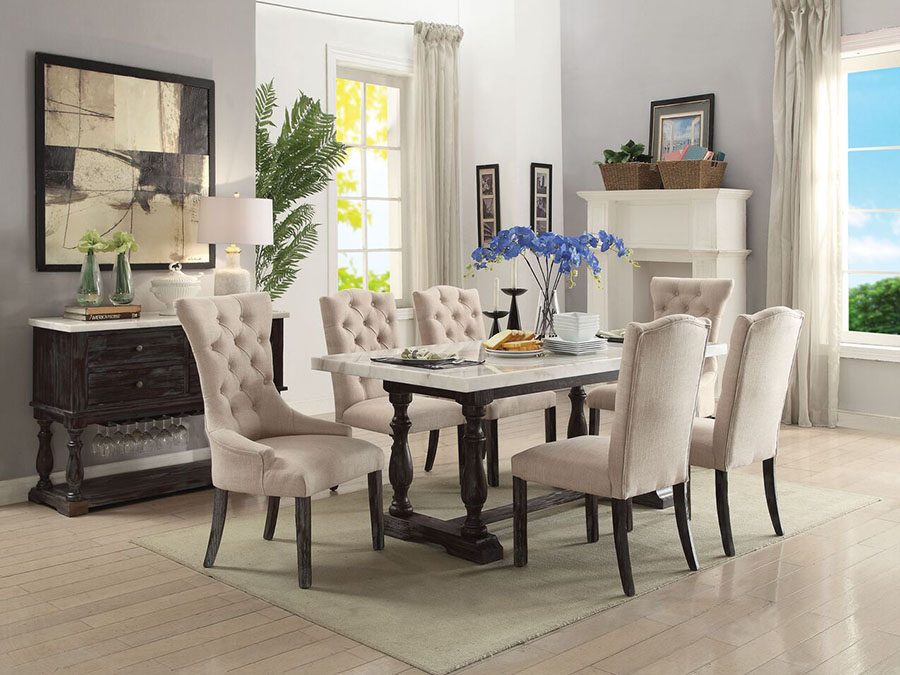 If contemporary style is your goal, the Gerardo white marble top dining set effortlessly meets it. The white top contrasts beautifully with a weathered espresso-finish base. Turned support columns and sold wood make this set feel substantial without sacrificing elegance.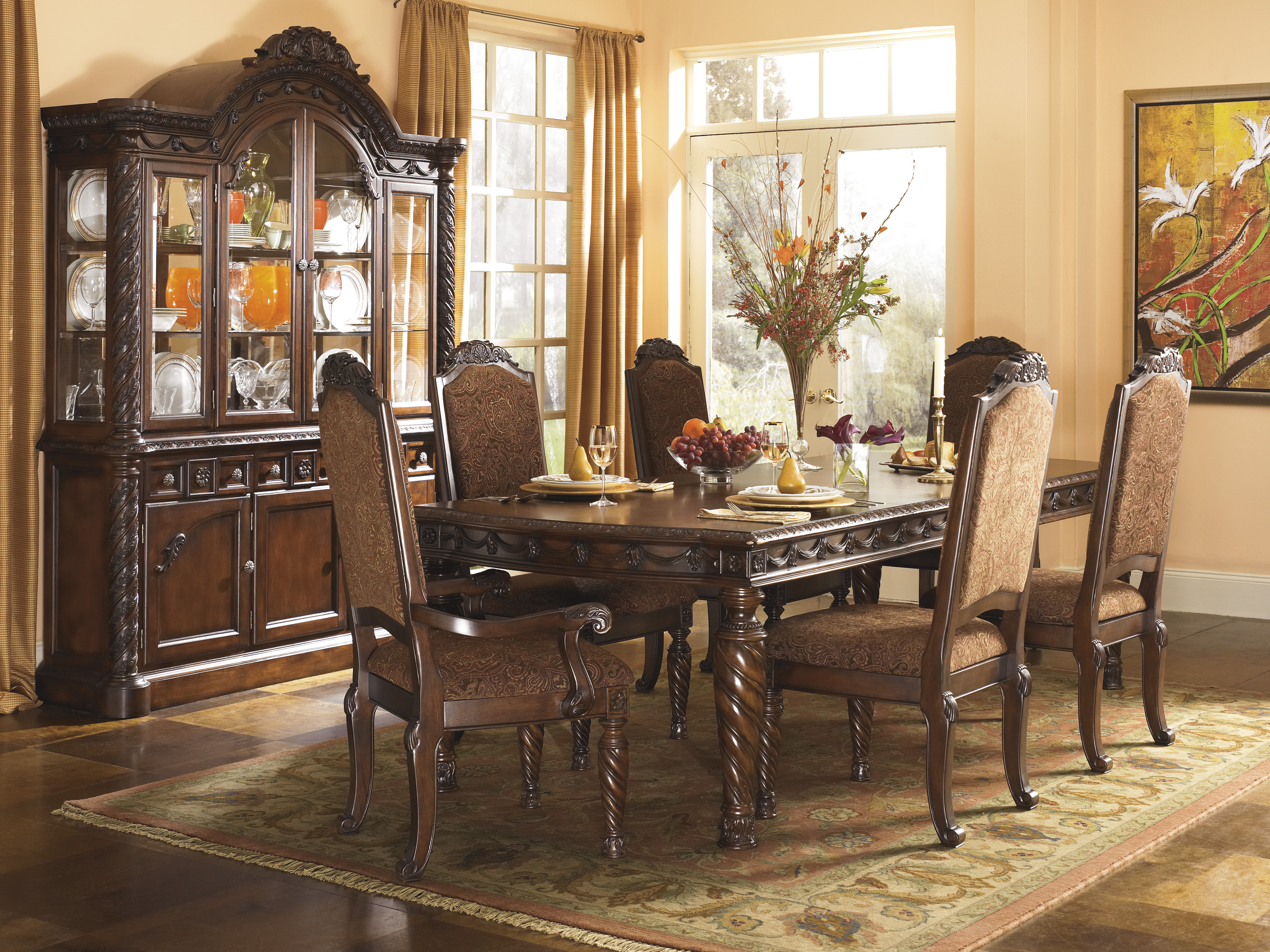 The Ashley D533 7-Piece North Shore Pedestal Table Dining Room Set is the ultimate in formal furniture. You'll love the sweeping rope accents and spiral-turned legs. The distressed dark opulent brown finish anchors the room. Thickly upholstered chairs invite guests to linger. The ornately detailed appliques are a nod to the past, while the muted jewel-toned paisley upholstery blend with your décor as if it was meant to be.

How to Use Round Dining Room Sets in Your Formal Dining Room
For some people, a round dining table offers a more comfortable set up. There's no need to decide who sits at the "head" of the table and it may be the best choice for small gatherings. If your formal dining room is better suited to a round table but you'd like to be able to accommodate a larger crowd, consider a table with an extension leaf. You may want to also purchase extra matching chairs separately.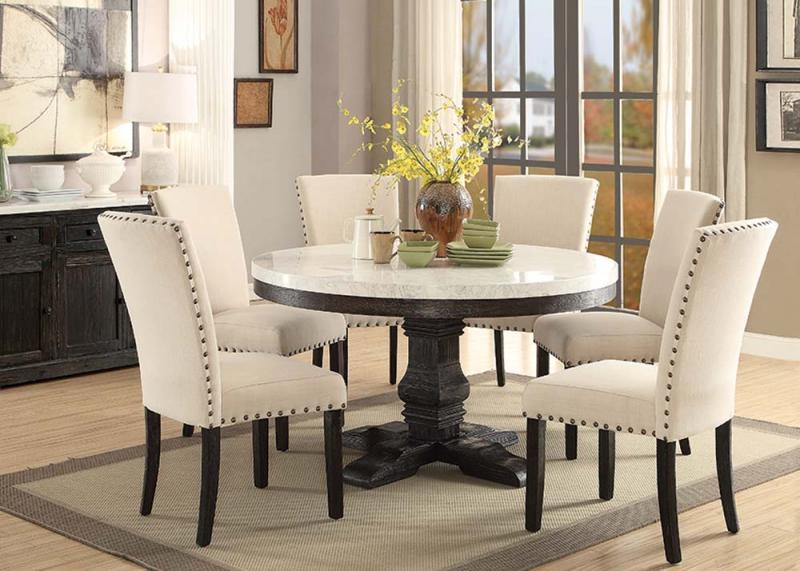 For smaller, square rooms where you'd like to seat four or six people, a 54-inch round table is ideal. The 54" Nolan Round White Marble Top Dining Set has a pedestal base and four chairs with beige upholstery and nail-head trip details.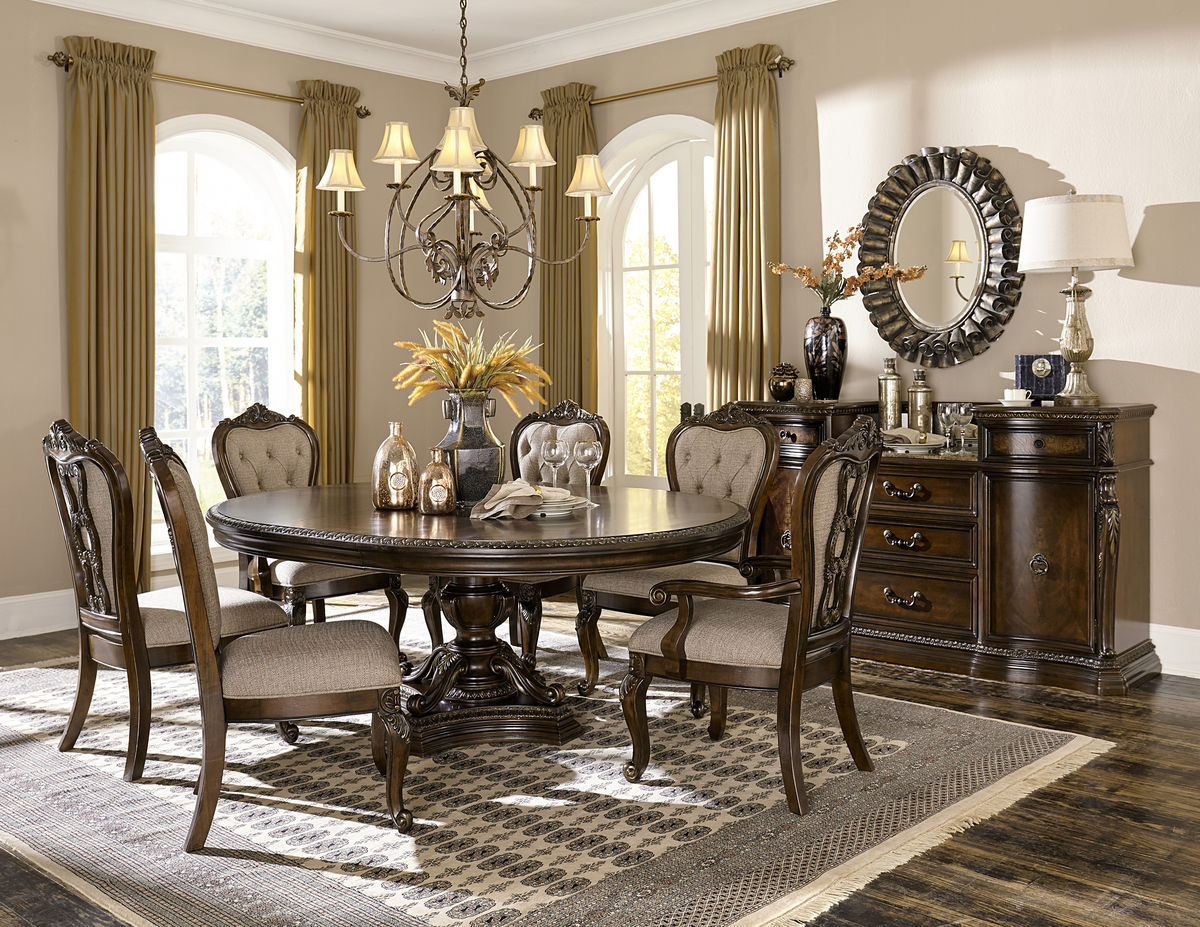 The Homelegance 1935-76 Round 5-Piece Pedestal Dining Set in Cherry has a traditional design with a gold-highlighted finish. Egg and dart molding give an old-world feel while button-tufted tweed fabric and wood-framed chairs make this set on-trend.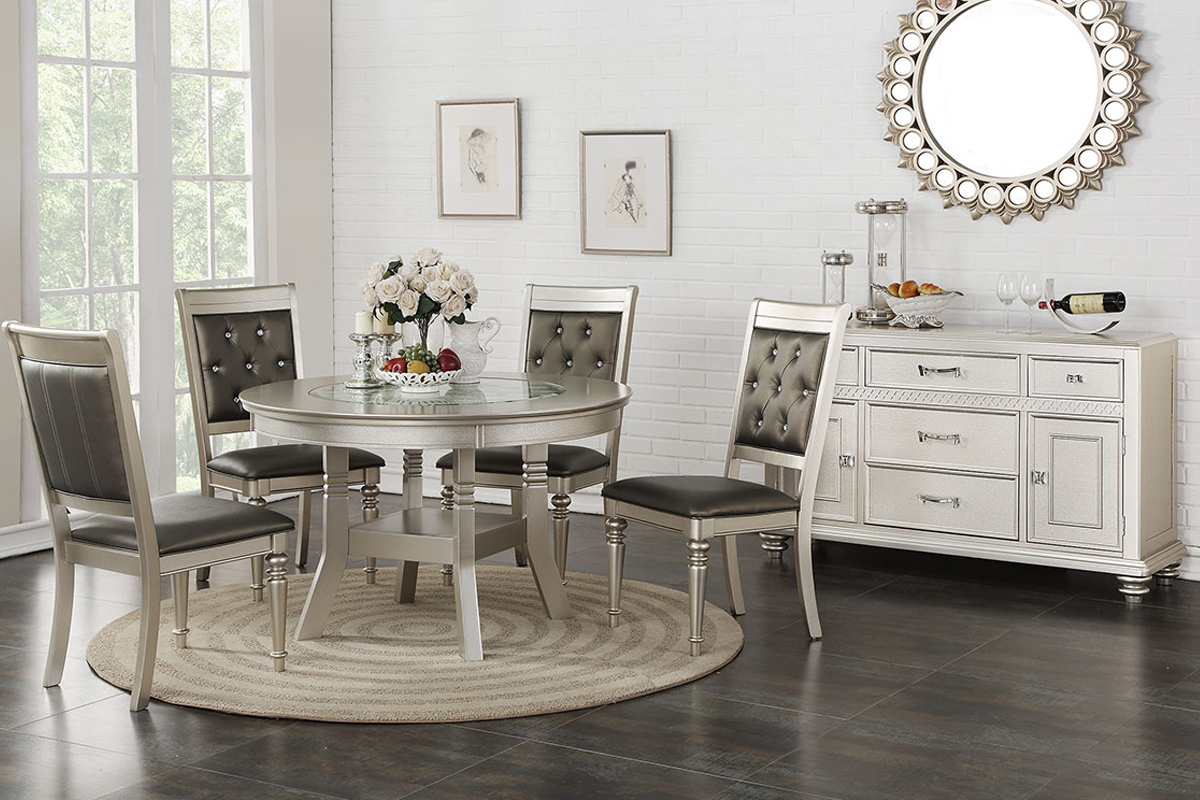 For a streamlined and modern feel, the Stella Silver Round Dining Table Set is a must. It fits well in homes with a transitional style and its silver finish reflects the perfect amount of light. Solid wood and veneers make this set a timeless choice that effortlessly glides through many happy holiday celebrations.
While choosing the perfect formal dining room set for 8 or 10 may seem like a big undertaking, the options are exciting. Be sure to measure the space and consider how the table and chairs may fit. A high-quality formal dining room set will serve you for years to come.