Posted by UPW on 21st Oct 2016
A lot of work goes into creating the Thanksgiving feast. One of the most satisfying parts of the day is sitting down to a dining table that reflects the planning and care required to produce such a rare and elaborate meal. Whether your home is a classic traditional, transitional, full of rustic décor, or well-suited to a modern dining table, a carefully constructed tablescape offers an impressive finishing touch.

Rustic

Rustic dining room tables reflect the textures and colors of autumn found in nature. Even if you don't live in an area of the world that experiences a fall season that includes pumpkins growing in the field, corn withering on the stalk, and rapidly cooling temperatures, creating a rustic dining table-scape is as easy as collecting a few well-worn items and grouping them together to create interest and to delight your guests.
If Indian corn and fresh from the field gourds are hard to find, mimic the fall look at your rustic dining room table with braided raffia. A touch of mercury glass offers some contrasting bling while maintaining the weathered and worn feel of rustic dining table décor.

Via A Blissful Net
White and green rustic decorations with neutral accents. Green wheat wreath, fresh pumpkins, braided raffia, mercury glass accents and wicker chargers.
Create a beautiful rustic look by finding a few branches with berries and changing leaves attached. Paired with small pumpkins and arranged on a weathered board, they offer the perfect finishing touch.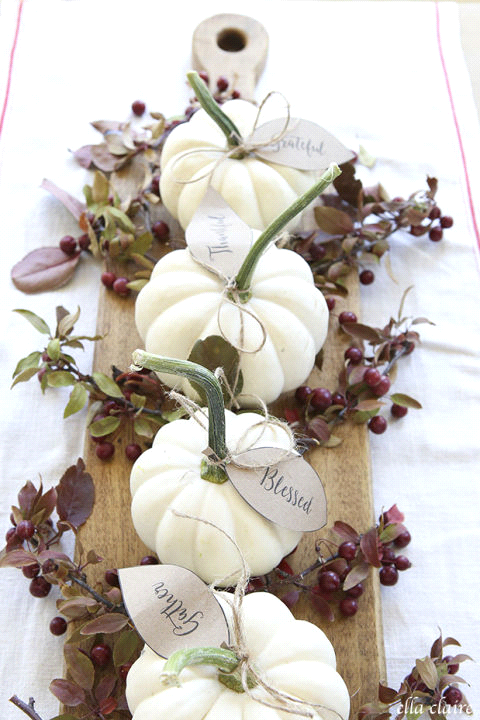 Via Ella Claire
White heirloom pumpkins and cranberries on a wooden board add a beautiful rustic look to this thanksgiving dining table.

Classic Traditional

Traditional dining room tables don't have to be intimidating. It's quite possible to set out an impressive spread of fine china while adding some trendy touches like gold-covered small pumpkins and bright white linens without compromising the high-end feel of the occasion.
Black and white accessories, like the candlesticks pictured here, are always at home in a formal setting. Add some nature-inspired touches of greenery for the ideal finishing touch.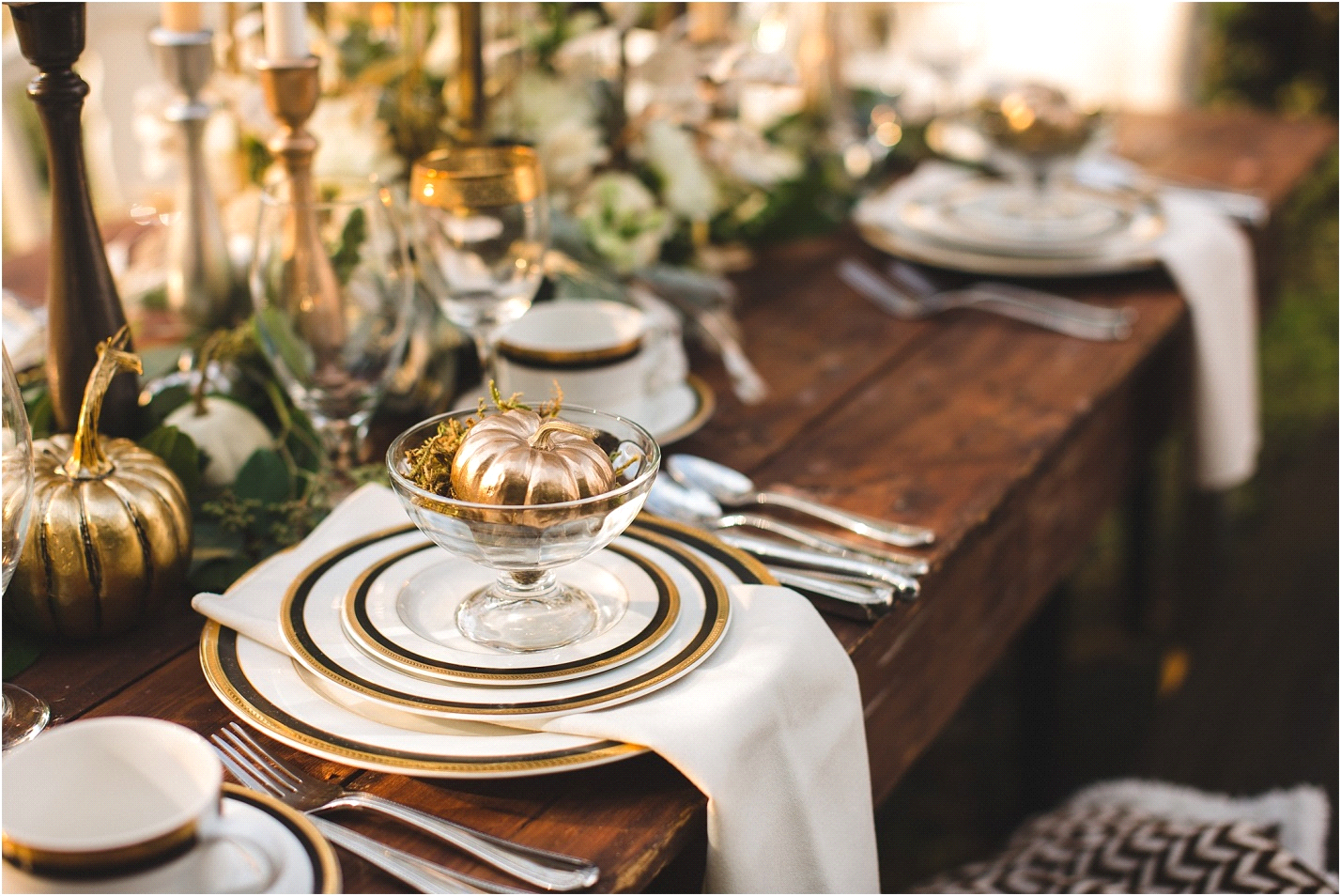 Via Custom Love Gifts

Elegant Thanksgiving table featuring gold, white and black candlesticks, small antique gold pumpkins, fine china and a garland of white flowers and green leaves.

Let the bright colors of fall serve as inspiration for your classic traditional dining table by letting each item of the table scape shine without embellishment.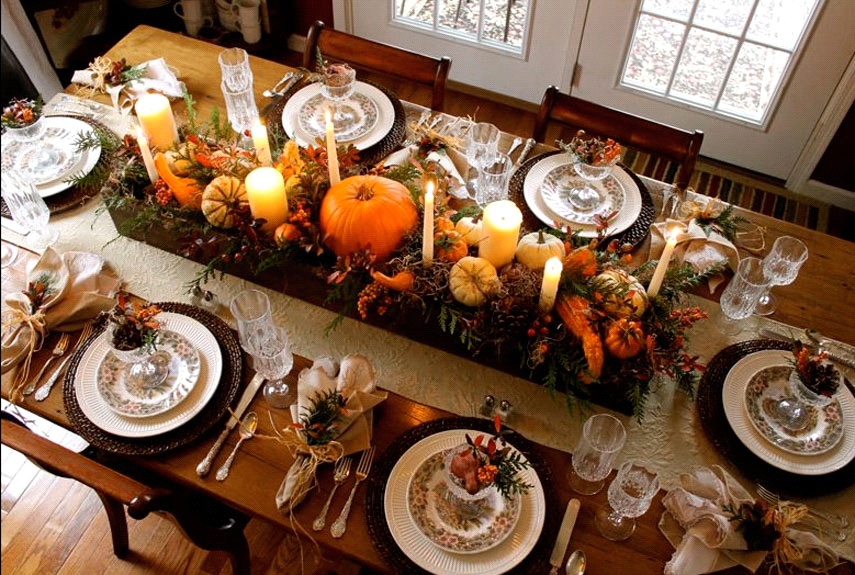 Via Far Above Rubies
Beautiful pallet box of bright orange pumpkins, red and yellow leaves and natural berries present a beautiful contrast to fine china and formal place settings.
Transitional, Farmhouse & Industrial Chic

Farmhouse dining room tables are on-trend right now and dressing up for a big event like Thanksgiving is pure pleasure. Lean toward lighter shades of green and orange and finish with brass and white accents for an understated look. A bare table may offer the best backdrop, but if that isn't a preferable option, try a natural linen tablecloth or woven place mats in soft colors.
The transitional style blends modern with traditional, blurring the lines of strictly categorized ideas about decor. Simple shapes, metallic accents, and monochromatic color schemes pull the look together perfectly. Choose one bright or bold focus color and keep everything else white or black for maximum effect.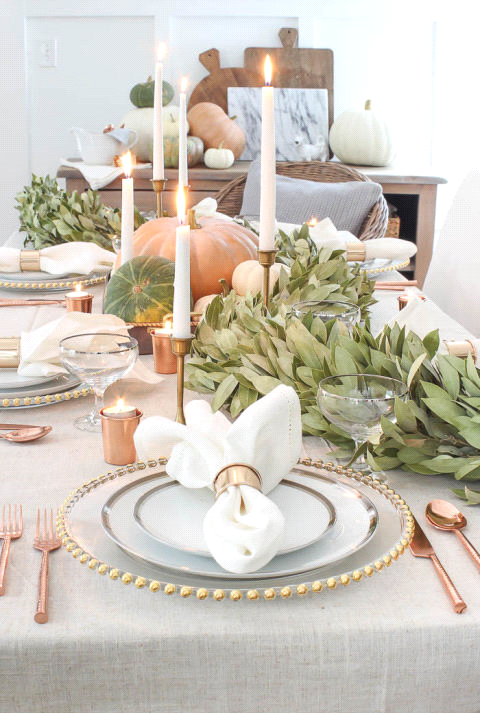 Via Rooms for Rent
Elegant and relaxed table setting featuring brass and pastel colors, white candles in antique brass candlesticks, bay leaf garland, brass flatware, heirloom pumpkins and natural table linens.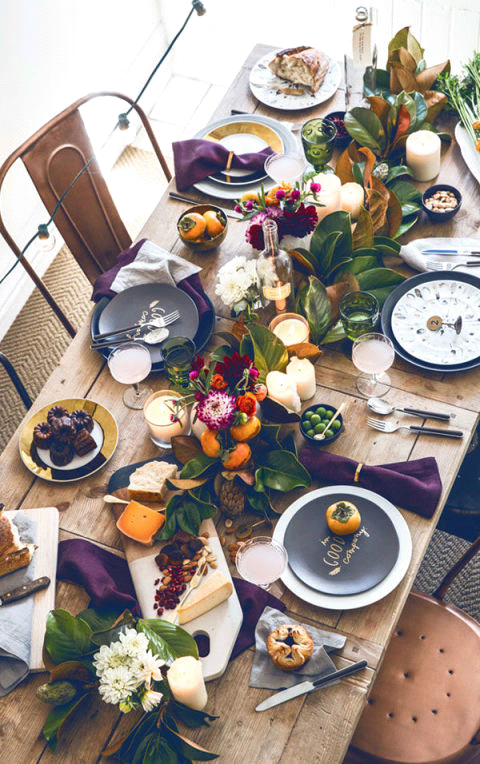 Via Apartment 34
Thanksgiving table setting featuring autumnal rich colored floral and fruits arrangements with the addition of violet colored napkins add beautiful contrast to the white cream candles and to the neutral colored table.

Contemporary/Modern

Modern dining room tables fit in with any style of décor. Their simplicity is elegant and easy to put together. Plain white or eggshell china, clear glasses, and flatware with clean lines are essential. Keep the table décor simple and spare. Candles are important for ambient light and visual interest. Bare candles in natural colors resting on a polished wood plank are a beautiful and understated option.
One may not often think of vintage table accessories as modern, but it's quite possible to display or even use a favorite collection of things from days gone by in a modern dining table arrangement. Vintage flatware or glassware is at home in contemporary surroundings and the contrast creates a wonderful focal point at the table.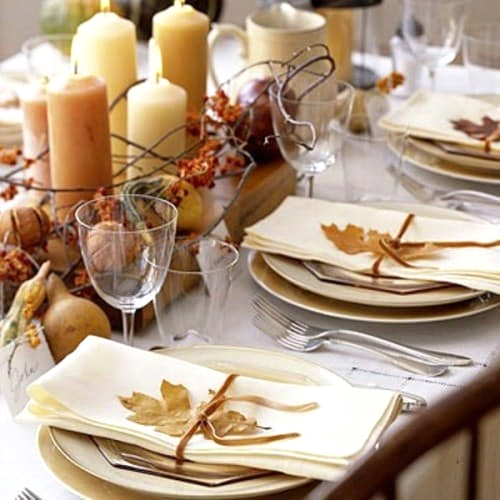 Rustic Thanksgiving table decorations with a modern edge. Warm colored candles, fall colorful vegetables and twigs on a wooden board.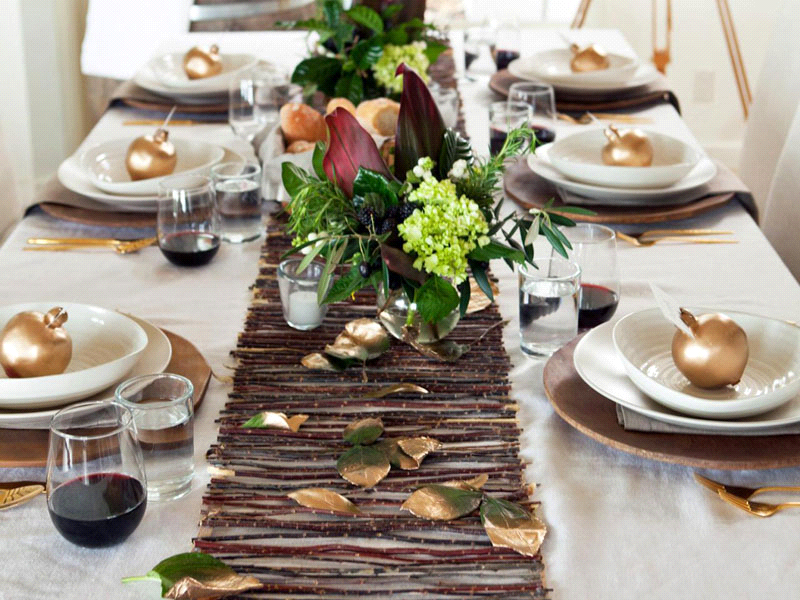 Via HGTV
Modern Thanksgiving dining table featuring a twig table runner, vintage gold accent pieces and flatware, natural linen napkins and a beautiful table arrangement in fall richest colors.
Creating a Thanksgiving feast and presenting it to family and friends in the midst of beautiful dining table arrangements is a wonderful way to show love and caring for important people. Classic traditional, rustic, transitional, and modern dining tables are all well-suited for this festive holiday.